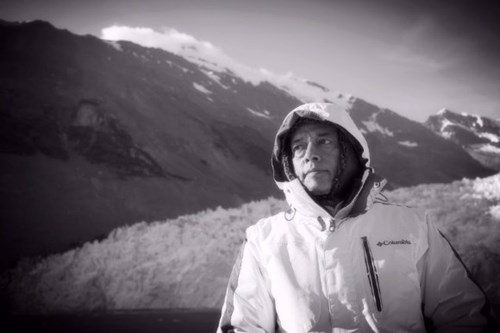 Over 540 lucky mahatmas got the privilege to witness the beauty of South Central Alaska, in the divine and spiritual company of Pujyashree. Just to give some perspective, the group exceeded the population of some of the towns that were visited! Even some of the local guides admitted that this was the largest group ever to visit Alaska. And, to plan for a group this size, was no easy task. The organizers' hard work, starting as early as in January 2013, resulted in the excellent planning and execution of the Jatra. Where even a slice of cheese pizza was challenging to get, the organizers ensured that Jain food was available even in Denali's Tundra!
The way the itinerary was planned allowed each mahatma to receive the saanidhya of Pujyashri during at least one excursion of the trip. The Jatra started with the wonderful Whittier Cruise, where Mahatmas witnessed the marine life and glaciers of the Prince Williams Sound. Such was the aura caused by the 'divinity of Deepakbhai' that even whales flipped out and back into the water, as if to pay respects to the Gnani! The joy of experiencing the falling ice from the Alaskan Glaciers in the saanidhya of the Gnani was spectacular. In between the excursions, the Mahatmas enjoyed a casual gappa satsang with Pujyashree at Alyeska Resort, forgetting about the natural Alaskan beauty, while being engaged in Pujyashree's presence. The Mahatmas really enjoyed the casual format of the satsang at the Alyeska Resort. Everyone was pleased to see Pujyashri relaxed in the Mahatmas' company amidst the natural Alaskan beauty. On another cruise of the Kenai Fjords in Seward, Mahatmas again enjoyed a variety of marine life while cruise boats performed 'garba' around Pujyashree's boat. The experience was so unique that even the tour operators were surprised to see falling glacial ice, jumping whales, and mountain goats. Yet, our mahatmas saw it all.
The glass dome train ride from Talkeetna to Denali was also memorable, with Mahatmas singing pads on board as they watched the 'shuddhatma' in the Alaskan wildlife they saw on the way. The Mahatmas really loved the repeated and 'surprise darshan' Pujyashree offered during the dinners. The trip ended with a lovely aurora light show screened on day 7. Deep inside everyone realized that the true magic of the Aurora Borealis was actually being in the presence of Pujyashree.