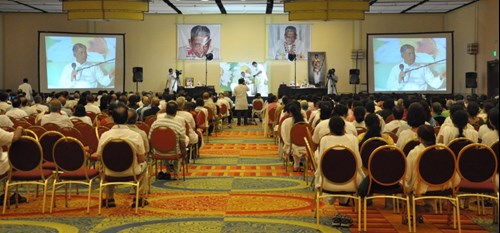 The MD/DC/VA center is a relatively newer center as compared to some other centers in USA. The idea for this center stemmed in 2006 when a couple of mahatmas who took gnan then were very excited to start a center in the Baltimore region.
For about two to three years the satsangs took place at a mahatmas house; however thereafter one of the mahatmas was generous enough to permit to hold the satsang in the conference room of their hotel.
Pujyashree visited this center for three consecutive years from 2008 to 2010 and the center is up for a visit this year too!! The shibir at Hunt Valley, MD was the only parayan equivalent 4 day shibir in USA which was conducted on reading of Aptavani 12 (P).
Pujyashree's trips in those years has been very memorable and one of the beginners as she fondly remembers, quotes, "I was charmed by the way the Aptaputris were doing seva of Pujyashree when he visited my house. I got to learn a lot from them on seva bhaav and love for Guru".
The MD/VA/DC region has about 200-300 mahatmas who have taken gnan; and with regular attendance from 40-50 mahatmas. There are quite a few hindi speaking too who now attend regularly and during major events such as Niruma Punyatithi, etc. the center does witness attendance by about 60+ mahatmas.
Click below and take a virtual tour: