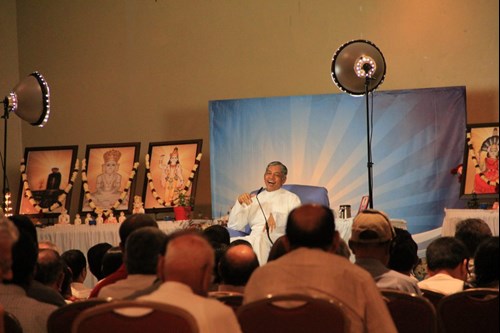 June 7, 2011 was the day when the land of Phoenix was sanctified with Pujyashree setting his feet there for the first time! The first Gnan-Vidhi in Phoenix was going to be held on June 8 2011.
To have Gnan-Vidhi in Phoenix, was an idea that a small group of Mahatmas had envisioned about 2 years prior to 2011. Relentless efforts were put in, to bring that idea into fruition.
Satsangs started with a small group of mahatmas meeting regularly. Even when only two mahatmas were able to meet, the Satsangs would continue. Persistence was the key to maintaining that small satsang group.
The prayers of that small satsang group were answered, when Aptaputra Satsang was scheduled in Phoenix in 2010. Many Mumukshus had gathered for that Satsang. Seeing the keen interest of the Mumukshus, Pujyashree's visit was sealed and scheduled in Phoenix for the following year.
The happiness of Mahatmas knew no bounds. They left no stone unturned in their pursuit to spread the word of Pujyashree's visit to Phoenix.  The enthusiasm of Mahatmas would become manifold, when Mumukshus, who were familiar with Pujyashree's and Niruma's Satsang through TV, expressed their joy and ardent wish to attend Pujyashree's satsang.  
Pujyashree's Satsang visit was a grand success and another visit was scheduled the following year (2012) with a bonus of west-coast retreat to Grand Canyon and Sedona. Mahatmas spent a blissful time in Gnani's Saanidhya.
The small group then became a strong Mahatma family. The bond between the Mahatmas became even stronger when an unprecedented Seva opportunity was bestowed upon them. The West Coast Gurupurnima 2015 was to be celebrated in Phoenix! The Seva journey not only strengthened the bond between Mahatmas, but it also helped them grow in Gnan. Many unforeseen situations were encountered during the execution of Gurupurnima. However, the oneness among Mahatmas, helped the team sail through.
Young or old, the common goal "to grow in Gnan" binds the Phoenix Mahatma family together and keeps them energized. After a Satsang meet, each day of the week is spent looking forward to the next satsang. To think of a week without Satsang is unfathomable for all.
With Dadashri's blessings, may this Mahatma family grow!